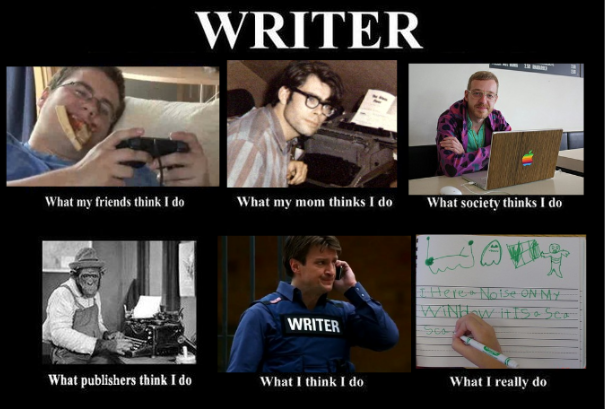 Being a writer is never easy. There are days when you simply feel like quitting. All your life, you want to pursue a rewarding career, not only financially but also emotionally. While being one is your ultimate dream, there are times when you just want to give up because nothing else seems to ever work.
Discouragement is an often occurrence. Rejections come up in various forms. Being a writer requires investment in time, money, and energy with no guarantee of financial gain. There are times even that when you revealed that you are a writer, you have to endure the looks of healthy disdain from people. Well, not everyone looks at writers with contempt. If you are a literary writer, you are looked up to; but genre authors; well, people are condescending most of the time.
If you want to quit being a writer, you should think twice, even thrice. Being one is sometimes painful but unless you are constantly depressed and on the verge of madness, you should re-consider your decision to quit. If you are simply doubtful whether or not being a writer is something that you can or cannot do for the meantime, then continue reading on.
Being a Writer: Five Reasons to Not to Quit
If you've been faced with constant rejection and feel like quitting already, think again. Here are five reasons why you should stay being a writer:
Writers are not required to submit their work. Unless you are working in an office as a writer, you don't have the obligation to share you work with other people. For most writers, they write only for the pleasure of it. Meanwhile, if you want to be a published writer, you can self-publish. What this means is that being a writer means that you can choose whether or not you want other people to see and read your work. Nobody can force you to submit it.
Being one immortalizes the work that you do. When you die, there is likely a chance that you unpublished works will be discovered and you'd be popular. Your work would be translated into many languages. It would be turned into film. You'd inspire legions of writers and even non-writers to continue with their craft despite rejections and challenges. So, if you stop writing, what would they discover when you die?
Being a writer is one great way of showing the people who criticized you that they were all wrong about your writing. Remember your high school professor who gave you an F when you wrote an essay about your "Most Memorable Moment in Your Life?" Remember that audacious editor who did not bother to look at what you've written and let them gather dust in the corner of his office chair? Being a writer and being good with what you do is the greatest form of revenge that you can ever do to those people who belittled your abilities.
The world simple needs more stories so don't stop being one. Write more for the people who are hungry for easy to read stories. Continue stringing those words together for people who long for unique and never-been-told literary pieces. There cannot be overpopulation when it comes to stories and writers. People are always searching for the intriguing and the mysterious. In this cruel world, they are searching for something that you fee their fantasy and temporarily take them out from the harsh reality of their lives. Write for those people. Don't stop being a writer.
When you are a writer, you are the only one who can determine your success. Whether you make it big or small being one all depends on what you do. Whether it is a small or big success is all on you. You may never win a National Book Award but the feedback of those people who read what you've written, those are the kind of success that you should celebrate.
Stay being a writer just because you must. When you are a true-blooded writer, you can simply never stop. There is always the urge in you to write, whether you are doing your morning ritual in the bathroom or you are lying on your bed wide awake at night and looking at your ceiling.
Being a writer is one thing that you can't just give up. While there are reasons why you should stop being one, there are more reasons why you should continue.