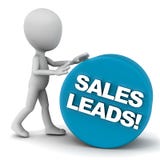 New sales leads are difficult to come by. The fast-paced environment makes it difficult to make connections. Fifty years ago, an insurance salesman would visit their client's home, sit down and have a cup of coffee. That one-on-one interaction isn't as easy to do now, but starting a beautiful relationship is still possible. You can come by your new sales leads through personalized e-mails, online chat sales and more.
Still, you've probably experienced the struggle of creating connections and long-lasting business relationships. But don't worry. Here in this article are different tips and tricks to help you cement new sales leads – 5 stages of action, 6 tricks to relationship selling, and 7 ways to close. Keep these numbers in mind and you'll start raking in new leads in no time.
Five Stages of Action to Get New Sales Leads
Effective sales technique comes in five basic stages of action. If you can master these five steps, then you can be sure that your new sales leads will turn into sure customers at the end of the day.
#1. Get their attention.
When you want to start getting sales leads, you have to get the attention of people in the market. You can do this by prospecting or advertising material that's focused on your product.
#2. Keep their interest.
It's not enough to just get their attention. Cultivating new sales leads requires developing their curiosity. You can do this by bringing forward an emotional appeal that's backed by a logical foundation.
An example of this would be life insurance. Security of the family would be a practical concern of most new sales leads. But if you play the emotional angle as well, you'll be able to keep their interest even more.
#3. Make them desire your product.
They have to want what you're offering, and not what your competitors are selling. You can do this simply by strategically revealing the product value and your company's commitment to their interests.
#4. Add conviction.
Nothing you say will convince your new sales leads if you don't add conviction. Make sure to assure and impress them. You can do this by adding statistics and facts.
Given the life insurance example, you can sell your product well if you talk about national figures on mortality, insurance rates, and fiscal deficits in the event of death. Convince them with real truths.
#5. Call to action.
Make sure they do something about their interest and desire. Answer any of their concerns. Close the deal by giving a verbal call to action. Turn your new sales leads to long-term clients.
Six Tricks to Relationship Selling
Now that you know the five basic stages of sales action, it's time to talk about how you approach each step. Selling a relationship is crucial to keeping new sales leads in your business.
Your reputation is a resource. If you can create an image of positivity and trust, your future transactions would be smooth sailing. This means that you can gain more benefits in the long run. For example, your clients would listen to you more if you offer a permanent life policy or a new insurance in the future.
So here are six approaches to use:
#1. Get to know them.
Any relationship begins with active listening and understanding. Knowing your new sales leads is no different. Create an emotional and logical connection with them by understanding their needs and desires. What do they prioritize? Is it money, family security, or early retirement? Who are their stakeholders?
These questions, spaced out in conversations, would go a long way in building a healthy business relationship.
#2. Use focusing, client-centered language.
Focus the conversation on them. They need to feel and believe that your product is important to their own lives –not important to you. You can do this by complimenting them, and supporting them in their accomplishments. More importantly, you can do this in every conversation by using the pronouns "you" and "your" instead of "I" and "me".
#3. Be direct to the point.
While cultivating personal relationships is a good thing, business details are also important to your new sales leads. Be clear and specific about your facts and figures. You need to answer "what's in it for them"? Tell them how your product can better their life financially, emotionally and so on, with your commitment and dedication.
#4. Never rush.
Take your time. Long-term business relationships don't happen overnight. You want them to feel positive about every stage of the sales action. Give your new sales leads time to think, consult and react.
#5. Build trust.
While it's easier said than done, you should make it a point to be worthy of your leads' trust. Be true to your word and deliver on your promises. If something goes wrong, be upfront. Offer explanations and not excuses.
While casual conversations may not be legally binding, they can still make or break your future relationship.
#6. Be a resource for your client.
The key to keep your new sales leads coming back is by being instrumental to their success. Be part of the positive image they have of themselves. This leads to repeat business, good word of mouth, and increased trust. Be part of the positive image they have of themselves
Seven Ways to Close
And lastly, how do you close the deal? You've built the relationship, you've got the interest and desire. It's time to get them committed and on board as well.
There are 7 techniques you can use to close the deal:
#1. Direct Close.
Be simple. Ask them: "Are you ready to order?"
#2. Product Value Close.
Make them feel as if they are getting great value for their money.
#3. Time Close.
Get your new sales leads to say yes by giving them a sense of urgency. Tell them how the offer is limited, and that the prices can go up any second. If they don't act now, they'll lose out on this great opportunity.
#4. Trial Offer Close.
If they're not ready to commit, offer them a chance to sample the product (if possible). This doesn't apply to the insurance example, of course.
#5. Shortened Term Close.
Depending on their level of commitment, they may opt for a year versus five years of opportunity. Get your new sales leads to say yes by giving them that flexibility.
#6. Discount Close.
Emphasize discounts. Tell them how much cheaper it is to buy a longer period of insurance coverage, or to buy in bulk, and so on.
#7. Reduced Benefit Close.
Simply put, accommodate the capacity and budget of your new sales leads. If they can't purchase premium insurance, offer them something else that's still secure.
With all of these numbers in mind, you're on your way to getting new leads, building relationships with them, and earning sales!